Has tech elevated the private yoga experience? Are you looking for yoga near me? With everything that is going on, online private yoga has skyrocketed in these uncertain times and why we should all take advantage of it. When there's a will, there's still a way to namaste in quarantine.
How Can I do Private Yoga in 2021?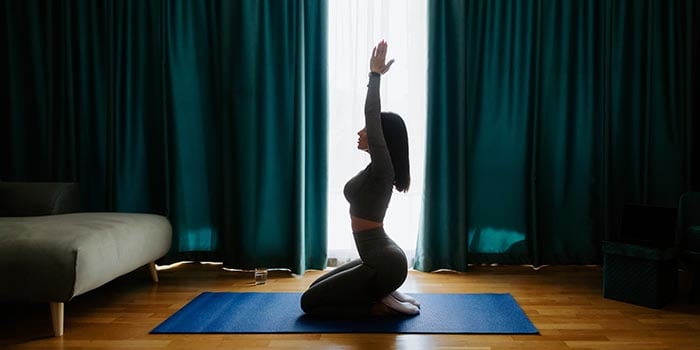 Considering we're only just over a month out from 2021, a lot has changed in the world of private yoga. Live streaming yoga has entered our daily lives through Instagram or Facebook live videos and Zoom feeds. Yoga near me is no longer necessarily the closest studio to where you live.
Your favorite private yoga instructor now meets you virtually, in the comfort your own space, which makes sticking to your yoga practice easier and more accessible.
Private yoga has also been elevated, here's a look at some of the unexpected pluses that have come out of the online private yoga movement of 2020:

Your yoga practice doesn't just happen on your mat or in a studio; online private yoga meets you wherever you're at, like in the comfort of your home, when you're feeling unsettled and stir crazy in the midst of a pandemic.

Intimate, one-on-one private yoga classes that feel unique and tailored to you. A lot of yoga instructors are adapting their teaching style to meet the needs of the time.

A new yoga community has emerged! People who may have never practiced yoga before are now signing up for virtual private yoga classes. What a perfect time to try something new to get you feeling happier and healthier!

Sounds pretty great right?! Take a look at our upcoming Anahana Academy. Our first course will be Yoga 101. Get ready to join the movement!
Why Take Advantage of Private Yoga Lessons Online?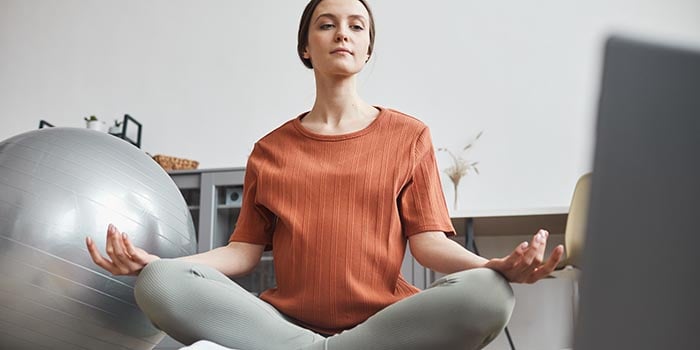 Doing live streaming yoga classes are not only convenient. They are also affordable, you can enjoy your privacy and above all its flexible. Private yoga lessons allows you to receive personalized teachings, unlike what you would get in a yoga studio, attending a yoga class. You no longer have to search for "yoga near me" to get your yoga fix.
Being a beginner of yoga one might not feel comfortable performing it in a group. Certain poses might feel a bit embarrassing at start which is why private yoga instruction could be the solution for you. This also allows you the chance to learn and improve your technique in an environment you feel more comfortable in.
The Benefits of Online Private Yoga Classes
One-on-one attention is at your fingertips.
It's never been this easy to take a one-on-one online yoga class. Simply click a link to join your private yoga teacher and begin your session. If you feel the need to stop, simply tell the instructor who will then stop, listen and explain along with answer any and all of your questions, in real time.
Healthy and happy in your own home.
Here is where the benefits with private online yoga comes in. You do not need to worry about your space, but practice it where ever you feel most comfortable. Skip traffic and crowded yoga studios and be led through personalized yoga instruction in your own home. From lighting incense to dimming the lights, you can customize your yoga space the way you like it.
Flexible to your schedule.
If you're working remotely, joining Zoom dates with your friends, and trying to keep up with the latest - you can easily fit in a 25 minute Unwind Your Mind session in between! Set a weekly personal chill and relax session for yourself - whenever it fits into your schedule. This takes "yoga near me" to a complete new level.
Opportunity to work on specific issues.
Another great advantage of live-stream private yoga is that you're able to focus and build your sessions on specific goals, issues/areas of improvement, or facets of yoga you prefer. Are you suffering from an injury or unique health conditions then a private yoga session could be your solution. Having personalized assistance guiding you through the different steps based on your needs or requirements, something you won't find anywhere else.
A highly qualified approach to the practice.
If you are on the lookout for a more qualified and deeper approach to the yoga practice, then look no further! The instructions you will receive from your private teacher will give you a mind-body connection that no yoga group class would. This is one of the perks of doing one on one private yoga. Our highly qualified yoga instructors are well-versed and trained in all kinds of different yoga styles. This will allow you to not only get a deeper knowledge of the technique but also expand your repertoire of yoga poses and postures. With that, increase your interest and devotion to the practice.
Private Yoga: Frequently Asked Questions
How do I go about finding a personal online yoga instructor?
Easy! All of our private yoga instructors offer live-streaming sessions in the style that best suits you.
Is a private yoga session expensive?
Everything is relative, but if you take the average price of a private session and compare it to a group class, it will be slightly higher. The higher cost is simply because you are getting a one on one session in private. How expensive it gets comes down to you, and how often you would want to take a class. You also need to calculate any potential equipment you would need to purchase.
Which styles of yoga do you offer?
At Anahana Wellness, we have qualified instructors offering styles such as Kundalini where you try to achieve the Kundalini awakening, Vinyassa, gentle yoga and gentle yoga sequence, where you perform something called nerve flossing, yin, self-awakening, restorative, Esther Myers, Hatha, mindful yoga, yoga nidra, and many more. You are able to choose whichever style that you feel most comfortable with or prefer practicing. As we do offer many styles you also have the opportunity to try new ones for the very first time!
Can I lose weight doing yoga?
The short answer is yes! Practicing yoga is an outstanding way of keeping a healthy weight or dropping those few extra kilos you want to get rid off. It also depends on which style you pick as some are more demanding than others.
The more difficult styles will allow you to burn more calories, use more of the muscles in your body and as such, burn more fat. However, you do need to keep in mind that losing weight is not just achieved through one thing alone; a good exercise in combination with a healthy diet will ensure you keep those kilos off.
What can I expect in my first private yoga session?
You will get introduced to your instructor, get to know them on a more personal level and together discuss what it is you want to achieve and the goals you have. Your very first lesson will be an introductory session, adjusted to your previous experience and preference.
Get Paired With Your Own Personal Yoga Instructor!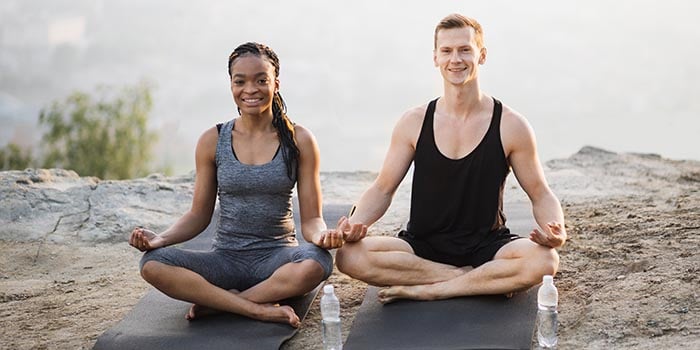 It's very important to us that your journey is a delightful one. It doesn't matter if you are new to yoga or have previous experience, a yogi, the main goal is still the same, allowing us to help you practice the thing you love. Our instructors are ready to bring you on a journey you will never forget!

Want to try? Sign up and get notified about our upcoming Anahana Academy where our very first course will be Yoga 101!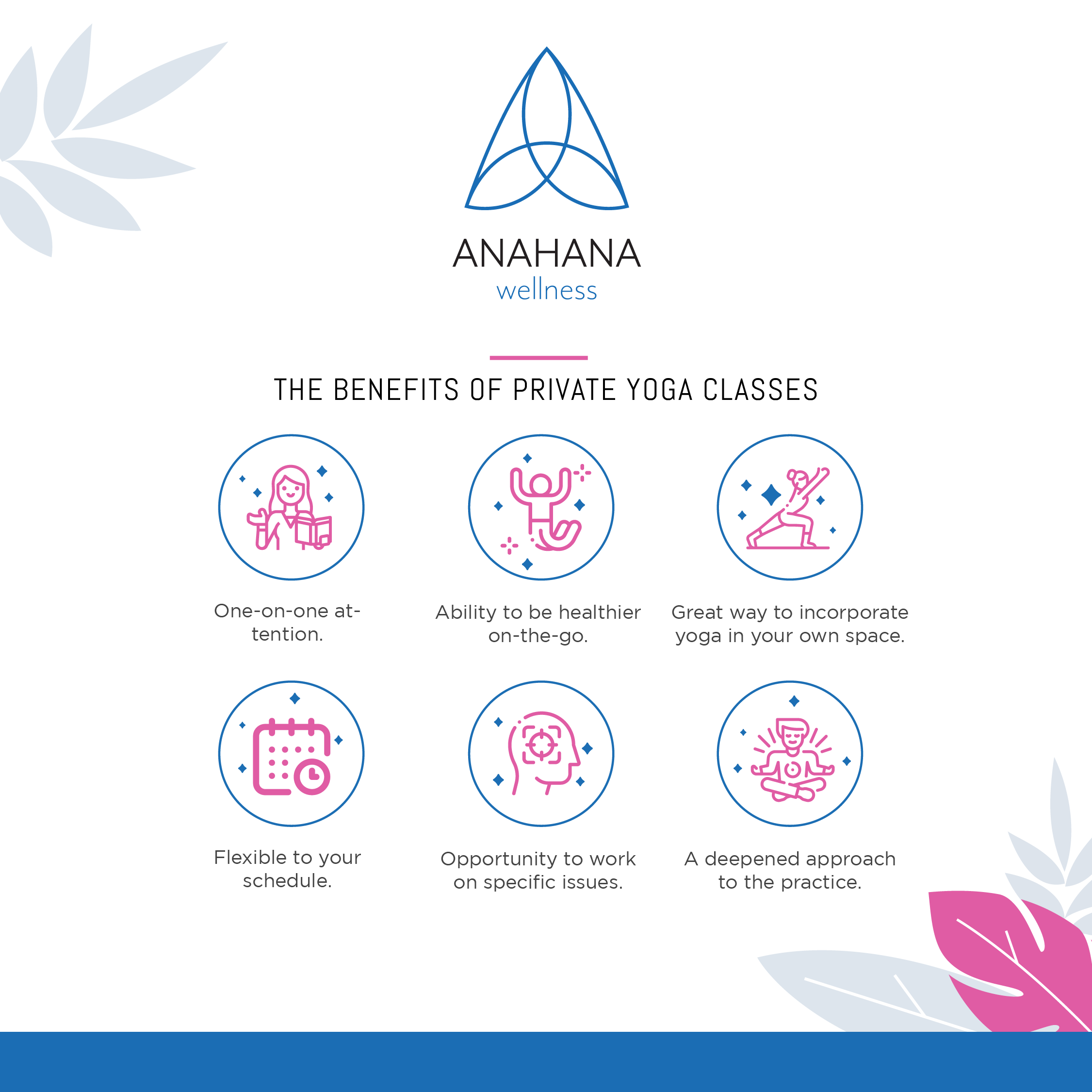 Love What You Read? Download Our Guide to Private Yoga!