Anyone can benefit from yoga, and private yoga classes are a fantastic way to go about learning the practice. Anahana offers comprehensive yoga instruction, tailored to your unique needs and goals.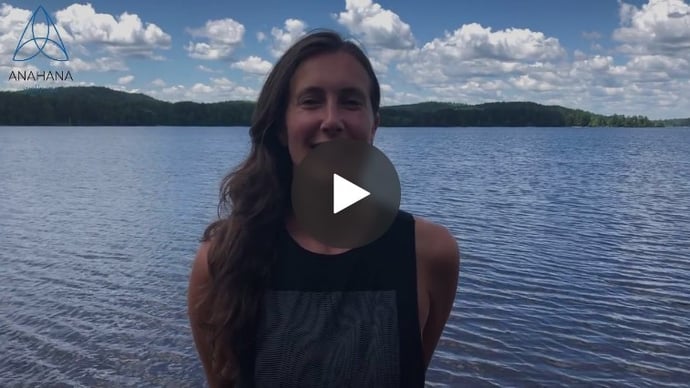 I have a passion for discovery, growth and learning. I teach Hata, Flow and Restorative Yoga.

― Anahana Instructor Melissa
Everything You Need to Know About Private Yoga
Ahead, we'll explore the specific benefits of private classes. We'll also explain what you need to know to get started with yoga.
What Is a Private Class?
Private class or in-home yoga is a structured yoga teaching program that revolves around your schedule, location, and goals, all thought by a certified yoga instructor.
Getting started is easy. After speaking with an Anahana Wellness Advisor who will assess your specific yoga-based objectives and aspirations, you will be matched with one of our accredited and highly-skilled personal yoga instructors.
Your private trainer will be available to meet with you in your home, offer yoga at work, or whatever other appropriate location meets your needs. If you require yoga equipment, we are happy to accommodate you with the proper gear and accessories to get you started.
Why Take Private Lessons?
Private yoga lessons are convenient, comfortable, and flexible. Your private lessons will give you comprehensive instruction while at the same time providing you with personalized teachings that you just can't get in a group class at a studio.
For beginners to yoga and those who may not be comfortable practicing poses in front of others, private instruction is optimal as it gives you the opportunity to learn and improve your technique in a more convenient and easy-going environment. As a beginner, you'll also be getting the initial instruction of an experienced instructor. Your private trainer will help you grasp the basic tenets of yoga and work toward any goals you may have.
Advanced yogis can also benefit from the one-on-one nature of private sessions — and so can everyone in between!
A private yoga class is a chance to deepen your practice and expand your horizons. If any physical injuries or other setbacks hinder group practice, this is also the perfect opportunity to benefit from individual instruction.
Your private trainer will be available to meet with you in your home, offer yoga at work, or whatever other appropriate location meets your needs. If you require yoga equipment, we are happy to accommodate you with the proper gear and accessories to get you started.

― Anahana Instructor Nicole
Learn more about the specific benefits of personal classes below.
The Benefits of Private Yoga Classes
There are numerous benefits to taking private yoga lessons, but here are some of the particular rewards you can expect.
One-on-one attention
No class can offer the individualized attention that one-on-one yoga lessons at home can. Your private yoga teacher will be able to facilitate individualized teachings, stopping when you need to stop, explaining when you have a question, and changing course when necessary. This is what private online classes is all about!
Whereas with general classes at a studio, it's easy to get lost in the crowd, yoga classes at home are tailored to you specifically. They give you the ability to direct your own practice or to have a professional personal yoga trainer create a program that meets your needs. It's the ultimate in personalized wellness care.
Be healthier on-the-go
With Anahana's private yoga practice, you have the ability to continue your practice with private instructors even when you're on-the-go. After all, whether you're traveling for work or for pleasure, it's important to continue your yoga practice. It's good for you when you're away from home, and it also makes it all the easier to continue when you arrive home.
Fortunately, our private teachers are happy to facilitate your travel by providing you with Anahana Live Stream Yoga. You can stay connected and as well-balanced as ever with real-time instruction, no matter where you are. Online sessions can be just as impactful and useful as in-person private classes, and they happen in real time — at your convenience. In terms of traveling while doing private lessons online are as good as it gets.
Incorporate yoga in your own space
Some practitioners of yoga may not feel comfortable practicing in a group, and that's okay. The fact of the matter is that yoga is not inherently a group activity. It can be done alone with an in home to great effect.
Furthermore, with private sessions, you have the opportunity to be at home, in your own space. Select the yoga equipment that you prefer. Light incense if that fits your preference. Dim the lights to your liking. It's all about creating the space that makes you feel more comfortable and in your element.
It's also about convenience and comfort. If you're used to going to a studio for yogic fix, upon your very first private lesson, you'll see how convenient it is to have a instructor at home. It means no traffic or bad driving weather. No parking. No going to an overcrowded studio or enduring a yoga class where it's hard to see the instructor and even more difficult to avoid the smell of sweat in the room.
Personal yoga makes practice easier. It's something for everyone. We provide yoga for kids, yoga for seniors, or even Yoga for Athletes.
Flexible to your schedule
We know that private sessions allows you to practice without the hassles that go along with attending a class. And one of those hassles is having to accommodate your schedule to fit a yoga class schedule. While yoga classes in a group serve their purpose, attending one also means adjusting your to meet class times. Personal yoga instruction, on the other hand, is catered to times that fit your schedule.
This allows you to keep your other responsibilities and priorities in line much better. It also makes it much more likely that you won't skip your practice because of a prior conflict. If your set personal instruction time conflicts with something else in your schedule, simply speak to your instructor and adjust as needed. It's as easy as that!
Opportunity to work on specific issues
Because private yoga instruction caters to the individual, the practice allows you to design each class based on your unique goals. This means focusing on whatever issues or facets of yoga you prefer.
For many of those with unique health conditions or injuries, for example, private yoga can offer personalized assistance that you won't be able to find anywhere else. Often, yoga classes at studios cannot accommodate those with disabilities or injuries, and the postures and movements that your group instructor teaches may end up causing you more or different pain. Gentle yoga is exceptional in regards to this.
Instead, if you're struggling with a health condition, ideally, you'll want to be able to use yoga as a form of comforting rehabilitation, yoga for athletes is especially helpful for injury prevention. You also have yoga for runners, an perfect tool if you run a lot. This means that you'll naturally want your yoga instruction to improve your flexibility movement, and comfort when you have an injury or special condition. Nowhere is this easier to do than with an in home private yoga session.
A deepened approach to the practice
Lastly, many of those who practice yoga have taken all of the courses and classes their geographic location has to offer. As a result, they are on the search for a deeper level of practice — instruction that incorporates mind-body connection and takes them further than their group coursework ever could.
This is one of the best opportunities to engage in private yoga instruction. Your instructor will be well-versed and trained in the particular styles of yoga you are interested in, and we, of course, offer several different class styles. As a result, they will be able to widen your knowledge, expand the number of poses and postures you work on, and ideally, increase your passion for the practice.
Health benefits from doing Yoga
As we already mentioned, yoga can be adapted for individuals, tailored or adjusted to unique health conditions or injuries. Besides this, practicing yoga can also carry several health benefits in your life such as:
Private Yoga: Frequently Asked Questions
Where can I find a personal yoga instructor near me?
We often get the question: "Where can I find a private instructor near me?" If you are looking for private yoga instruction in your area, we are most certainly here to help. Our yoga trainers are available in a wide range of geographic locations. We can also help you connect with a traveling yoga instructor who can travel to your location for private classes at your convenience.
How much do private yoga sessions cost?
On average, private yoga lessons costs vary greatly on your location and the experience of the instructor. Ultimately, however, the cost of private session will depend on several unique factors. For example, the cost may depend on how often you care to meet with your instructor each week. It will also depend on whether you require yoga equipment in your practice space and how long your personal yoga sessions are.
What types of yoga are available with private yoga?
Private instruction is available in a number of styles, including: Vinyassa, Yin, Self-Awakening, Restorative, Esther Myers, Hatha, Mindful Yoga, and others. Choose the style of yoga that best suits you. If you have questions regarding a certain style or would like to test different styles and see what you like, feel free to discuss your preferences with your instructor.
Can private yoga help me lose weight?
Yoga is an excellent way to achieve the healthy weight that you desire. The more challenging and demanding the yoga you practice, the more calories you'll burn and the harder your muscles will have to work.
Although most types of yoga alone will not likely create the calorie deficit needed for significant fat loss, yoga in combination with a healthy diet and other forms of vigorous physical activity can help. Moreover, you can use it to help strengthen your muscles and increase flexibility in order to achieve a lean, toned physique you can feel good about.
Private sessions are especially beneficial for weight loss as it allows you to work comfortably one-on-one with a professional yoga trainer. You'll get personalized attention, which can be especially helpful for losing weight in a healthy, consistent way. The ultimate goal is to help you lose weight in a way that's healthy and good for your unique lifestyle.
What happens at your first private yoga session?
Your first private session is a chance for you to get to know your instructor and discuss your goals. You'll begin with an introductory session that's catered to your skill level and preferences.
Are You Ready to Be Matched With Your Personal Yoga Instructor?
Allow your own personal instructor to guide you through your own yoga journey. Whether you're a beginner who's just starting out with the practice or you're a seasoned yogi looking to deepen your experience, our skilled private instructors will work with you to help you meet your goals.