What is goat yoga? Baby goat yoga or just "goat yoga" is a novelty yoga practice, made popular in 2016.
What Is Goat Yoga?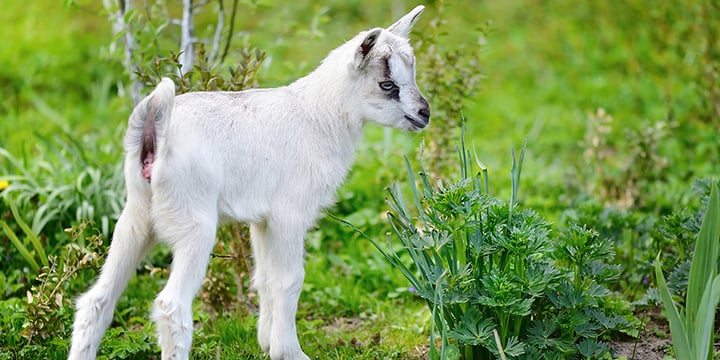 Just what is goat yoga? Baby goat yoga, or just "goat yoga", is a novelty yoga practice, made popular in 2016.
Essentially, the practice has participants doing yoga alongside farm goats.
Sometimes, each participant will have "their own personal goat" for the duration of the class. At other studios, there will be two or three goats mingling with the entire class.
Generally speaking, the goal of goat yoga is to do some simple yoga while smiling, laughing, and having fun with goats — known as some of the cutest, cuddliest, and happiest animals on the farm.
Who Came Up With the Idea?
Yoga and goats? Why?
If the idea of yoga with goats sounds a bit odd to you, you're not alone. And make no mistake — the concept doesn't go back thousands of years1 like the spiritual discipline of yoga. Instead, it goes back to around 2016, to a woman named Lainey Morse who owned some goats in Albany, Oregon.
Around this time, Lainey says she was going through a difficult period. Divorce, the recent diagnosis of a disease, and other setbacks had her struggling emotionally. But whenever she was around her goats, she says, her world brightened.
Lainey decided that this spark of joy should be shared, so she began offering "goat happy hours" to local people and anyone interested in getting some goat therapy of their own.
When telling this to a friend who was a yoga instructor, Lainey's friend came up with a brilliant idea: why not combine goat therapy with yoga for the ultimate combination of physical and emotional positivism?
And the rest, as they say, is history. Goat yoga took off and went on to become extremely popular in various places all over North America.
The Benefits of Goat Yoga
Here are some benefits of goat yoga. This list includes benefits of both yoga as a practice and time spent with goats (goat therapy2):
Cardiovascular exercise (lower blood pressure)
Improved flexibility
Goat Yoga: Frequently Asked Questions
How much can a goat yoga session cost?
Goat yoga costs slightly more than a regular yoga class because you're paying for the care of happy, trained goats as well.
Are there really benefits with goat yoga?
If you're an animal lover and don't mind some of the, ahem, unexpected occurrences that sometimes happen when furry friends are around (poop, pee, small nips on the fingers), then goat yoga can be a blast.
Of course, not everyone wants to combine an appreciation for animals with their yoga practice.
Are the goats not suffering?
Of all farm animals, goats are some of the most carefree and happy (especially when they're in adorable baby yoga clothes). At yoga farms, trained handlers are present and helping to lead classes.
Goats are also trained to be around humans, and humans, likewise, receive instruction on how to stay safe and treat the goats carefully and with respect.
What type of goats are used in goat yoga?
The pygmy goat is the most common type of goat in these classes. Goat yoga often uses baby goats; however, adult goats (like the adult pygmy goat) can be just as therapeutic.
Are there dangers of goat yoga classes?
When yoga with baby goats is practiced at a certified farm for goats with trained yoga teachers and animal handlers as well as trained yoga goats, the classes should not be dangerous for you or the goats.
Keep in mind, however, that goats may get on your back while you're in certain poses. Most class participants say this doesn't hurt (and may even feel like a massage). However, it may be momentarily uncomfortable as goats do have hard hooves.
Additional References
Yoga is not about self-improvement, it's about self-acceptance.
― Gurmukh kaur khalsa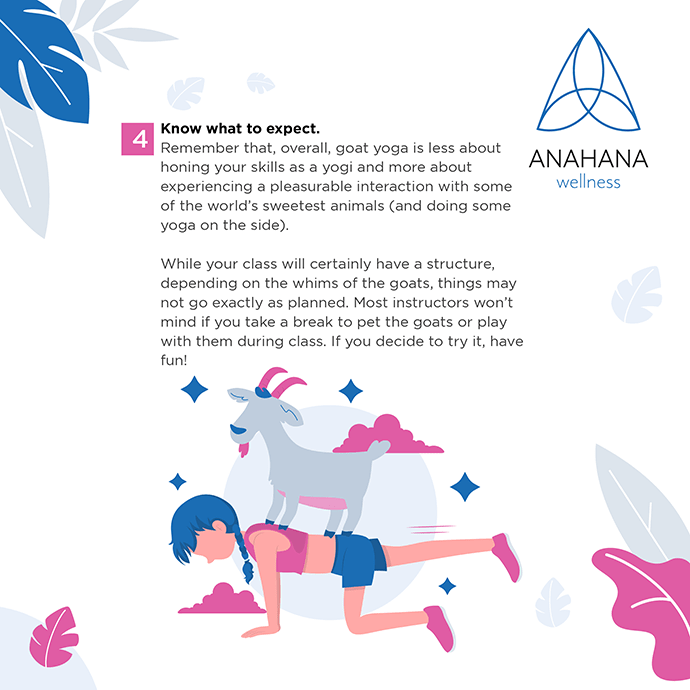 Enjoyed reading this? Download Our FREE Infographic Version!