There are all different types of reformers. The common characteristic is a platform that moves up and down along the frame of the "bed." This is the carriage.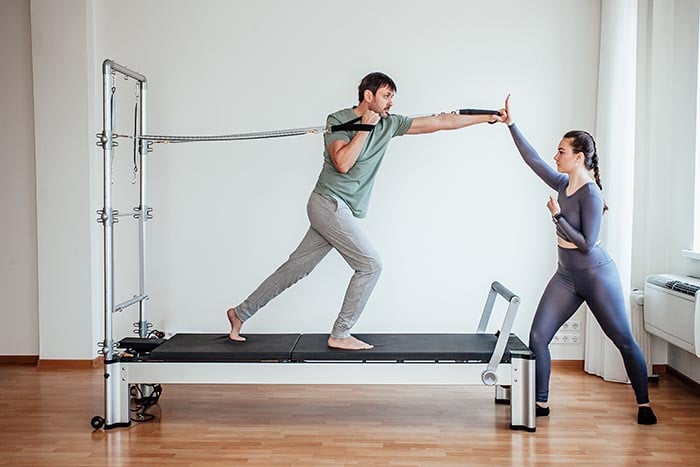 What Is a Pilates Reformer?
Pilates reformers are exercise machines built for the practice of pilates. They generally look like low beds with bars, pulleys, and other add-on equipment attached.
There are all different types of reformers. The common characteristic is a platform that moves up and down along the frame of the "bed." This is the carriage.
Joseph Pilates1 designed the reformer and invented and developed the practice of pilates in the early 1920s in the United States after his experiences helping to rehabilitate individuals who couldn't walk at a hospital in England.
Today, they are primarily used for core exercises, stretching and flexibility, overall athletic improvement, weight loss, and — to a certain extent — rehabilitation and prevention for injury.
How Do Reformers Work?
Reformers work by lengthening, stretching, strengthening, and balancing your body. Exercises involve an array of movements, from pushing and pulling to holding and balancing. Core exercises make up most of the movements on a reformer.
You can sit, stand, perch, lie, and hang on a reformer — depending on what type of pilates equipment you have. Rings, balls, straps, bars, blocks, and other exercise equipment can be added or taken away from the main platform carriage.
Not sure which reformer exercises are right for you? This is where your pilates instructor comes in! It's important to have an instructor you can trust who has Pilates Method Alliance certification2 and plenty of experience.
If you're unsure whether pilates is right for you, we urge you to speak to an instructor or Wellness Advisor. They will be able to help assess the best classes for you and assist you in figuring out where to start on your fitness journey.
Can Anyone Use a Reformer?
Yes! Anyone can use and benefit from a pilates reformer. These exercise machines are made for everyone from beginners to advanced students. Of course, having some familiarity with mat pilates is always a plus when you first begin. A reformer is often used as a more advanced step in learning pilates, but it doesn't have to be this way.
If you've seen students using reformers and have always wanted to try one, you can certainly take pilates reformer classes for beginners. Our Anahana pilates instructors have been certified through the Pilates Method Alliance and have extensive experience helping students of all skill levels.
Benefits of Using a Pilates Reformer
There are numerous benefits of pilates. Let's go over just a few of the pilates benefits you can expect below:
An increase in flexibility3

Improved strength and less pain in joints

An increase in lean muscle

Better overall muscle tone

Improvements for back pain and neck pain4

Better posture

A stronger core5

Improved focus and concentration

Better balance6

Better performance in other athletics and physical activities

Injury prevention
The benefits of pilates span all types of people, from young to old. Pilates can be great for beginners and advanced students, pregnant women and new moms, athletes and non-athletes, seniors, and everyone in between.
"Where Can I Find a Studio Near Me?"
There's Always a Studio Near You When You Have a Reformer at Home!
Having a reformer at home means you will always have a "studio near me"! It also means there's no excuse for not being able to get to the gym, scheduling classes at inconvenient times, or missing class because of other engagements or responsibilities.
As long as you have your reformer at home and a trusted Anahana pilates instructor to work with, our pilates online classes can help you keep your practice regular, and get a workout in at anytime that suits your schedule.When you're ready to get started, simply speak to an Anahana Wellness Guides who will help you begin your fitness journey and stay with you as you learn and grow.
Some of the Reformers Available Today
There are a wide array of pilates machine types available — no matter what your budget is, how much space you have in your home, or what your fitness and wellness goals are. What's important to remember is that each machine will have different configurations and possibilities. In essence, however, we can break down pilates machines into three types.
1. Reformers
If you're simply looking for a balanced body workout at home, with key core exercises, these are the main types of machines available. Most people who want to learn and practice pilates will choose a reformer for their home.
The platform slides up and down a carriage track, and you can use springs, your own body weight, and resistance to perform each movement.
2. Towers
Towers are usually reserved for pilates studios as they are quite tall and can be mounted to a wall. As such, they are substantially bigger than other machines.
You usually can't just roll them under your bed and out of the way, for example! There are tens of components attached to these machines, all of which provide full lower and upper body workout options.
3. Cadillacs
Also quite large is "The Cadillac." These reformers essentially provide the means for all possible exercises into one machine.
The Cadillac is a combination reformer bed, mat, tower, and trapeze. You can move on multiple planes and arrange yourself in a variety of positions for peak performance and mastery of skill.
Reformer Brands
Most reformer brands have a number of machines available. Depending on your skill level, fitness goals, wellness goals, and budget, you can choose what works for you.
You may want anything from the high-end "Rolls Royce" of reformers, to a basic model for beginners. Just be ready to invest in a machine you'll be able to use for a while.
Here are the top reformer brands available today:
AeroPilates

Stott (Merrithew)

Peak Pilates

Balanced Body

Stamina

Gratz
Reformers: Frequently Asked Questions
What

is a pilates reformer?



A pilates reformer is a piece of exercise equipment that's used in the practice of pilates. The machine looks like a low bed with two tracks for the carriage (main platform) on each long side of the frame. The main platform of the reformer rolls back and forth for varied exercises.
Depending on whether you're doing a lower or upper body workout, working out for back pain, or working out for weight loss, there are other piece of equipment that can be added and taken away from the reformer as well.
Is a reformer expensive?



Reformers range anywhere from $100+ to several thousand dollars. It all depends on the features you're looking for and how much you're willing to spend.
For many users, something in the middle range is a good place to start. But if you plan on going far with pilates, it's better to invest now in a reformer you know you'll be able to keep for many years.
Which pilates reformer is the best?
If you're looking for a high-end, professional-grade reformer, Stott and AeroPilates are two of the top brands. The Balanced Body reformer is another high-quality option.
Having a reformer at home is an excellent idea if you're not sure where pilates reformer classes are in your area. We're often asked, "where can I find a studio near me?" Your best bet is buying your own reformer for home and going with pilates online. For instance, with Anahana's digital pilates classes, you can workout anytime!
Can you lose weight doing reformer pilates?

Yes! You can get an intense workout using a pilates machine, and the calories you burn can certainly aid in your weight loss journey.
Depending on the physical areas you'd like to tone, pilates is also a great way to build lean muscle and sleek your overall silhouette as well. If you're interested in reformer pilates for weight loss, consider purchasing your own reformer for home.
When combined with Anahana's digital pilates courses — all taught by experienced instructors with full pilates certification — you'll never need to look for a studio near me again! Workout anytime, whenever it's convenient for you.
Can beginners do reformer pilates?

Of course! While it may take some practice getting the hang of your pilates equipment, our beginner pilates classes are specifically geared toward those with little to no experience.
Additional References

If you have unique physical concerns or restraints, you can speak with your personal pilates instructor for guidance as well.